Embark on a Thrilling Adventure: Explore Europe's Scenic Wonders in a Campervan!
There's nothing quite like hitting the open road in a campervan, ready to experience the thrill of adventure and the freedom to roam.
When it comes to exploring Europe, the journey itself becomes an integral part of the excitement, often beating the destination with days of sheer exhilaration. 
If you're seeking unforgettable road trips, look no further as The International Drivers Association has meticulously curated a collection of six awe-inspiring journeys that are bound to ignite your wanderlust. Strap in and prepare for an extraordinary expedition, complete with essential guidelines and stipulations to ensure a safe and law-abiding voyage.

Route One, Iceland: Unveil Nature's Mysteries on the Ring Road
Prepare for a mind-blowing adventure as you embark on Iceland's legendary Route One, widely known as the Ring Road. Spanning an impressive 828 miles, this enthralling loop encircles the captivating island nation, treating you to a grand tour of its surreal landscapes. Brace yourself for a visual feast of cascading waterfalls, erupting geysers, mighty volcanoes, stunning black sand beaches, and vast glaciers. With a campervan as your trusty companion, you can immerse yourself in the enchantment of the Northern Lights and bask in the glow of the midnight sun.
When traversing Iceland, it's crucial to adhere to the local regulations. Off-road driving is strictly prohibited to preserve the delicate environment. Keep your headlights on at all times, whether it's day or night, and remember the speed limits: 50 km/h in populated areas, 80 km/h on gravel roads in rural regions, and 90 km/h on paved roads.
The Romantic Road, Germany: A Journey Through Time and Beauty
Prepare to be transported to a bygone era as you set off on the Romantic Road, an enchanting 220-mile expedition that meanders through the heart of Bavaria, Germany. This picturesque route stretches from Würzburg to Füssen, guiding you through a fairytale-like realm of awe-inspiring castles, sprawling vineyards, charming half-timbered houses, and medieval towns straight out of storybooks. Be sure to carve out time to marvel at the magnificent Neuschwanstein Castle, immerse yourself in the history of Rothenburg ob der Tauber, and discover the walled city of Nördlingen. And what better way to savor the journey than by leisurely exploring this iconic route with a campervan as your cozy haven?
When cruising through Germany, remember to keep to the right-hand side. While autobahns (motorways) have a recommended speed limit of 130 km/h, many sections of the Romantic Road have specific speed limits. One essential rule to bear in mind: passing vehicles on the right is strictly forbidden.
The Wild Atlantic Way, Ireland: The Raw Beauty of the Emerald Isle
Prepare to be swept away by the wild, untamed beauty of Ireland's renowned Wild Atlantic Way. This captivating 1600-mile route winds along the rugged western coastline, revealing a tapestry of charming coastal towns, ancient ruins steeped in history, majestic cliffs teetering on the edge of the sea, and unspoiled stretches of sandy beaches. Take in the breathtaking Cliffs of Moher, journey along the stunning Ring of Kerry, and immerse yourself in the timeless allure of Connemara. Along the way, the warm hospitality of the locals and the inviting ambiance of cozy pubs will make your campervan adventure all the more unforgettable.
When navigating the Wild Atlantic Way, remember to drive on the left-hand side. It's mandatory for all passengers to wear seat belts, ensuring their safety throughout the journey. Keep in mind the designated speed limits: 50 km/h in built-up areas, 80 km/h on regional and local roads, 100 km/h on national roads, and 120 km/h on motorways.
The Amalfi Coast: Italy's Coastal Gem
Embarking on a campervan adventure along Italy's Amalfi Coast is not for the faint of heart, but the rewards are beyond compare. Prepare to be awestruck by the breathtaking vistas of steep cliffs plunging into the azure waters, pastel-colored fishing villages nestled along the coastline, and an irresistible charm that permeates the air. UNESCO has recognized this 43.5-mile route as a World Heritage Site, testament to its exceptional scenic beauty. Don't miss the chance to explore the cliffside lemon groves and visit iconic towns like Positano, Amalfi, and Ravello. While the narrow, winding roads present a challenge, they add to the allure of this unforgettable journey.
When exploring Italian scenic routes, always remember to drive on the right-hand side. The speed limits in Italy are 50 km/h in urban areas, 90 km/h on local roads, 110 km/h on non-urban roads, and 130 km/h on motorways when weather conditions permit. On the Amalfi Coast, however, speed limits can drop as low as 20 km/h due to the narrow and winding nature of the roads. Additionally, it's mandatory to keep your headlights on at all times when on motorways and major roads outside cities.
The North Coast 500, Scotland: Embrace the Majesty of the Scottish Highlands
Prepare for a captivating 516-mile expedition along Scotland's North Coast 500, often referred to as 'Scotland's Route 66.' This scenic journey unveils the untamed beauty of the Scottish Highlands, as you traverse the northernmost coastline. En route, you'll encounter ancient castles, serene lochs shimmering in the sunlight, dramatic cliffs overlooking the crashing waves, and pristine white sandy beaches. Keep your eyes peeled for wildlife, as seals, puffins, and even majestic whales might grace you with their presence. With numerous campsites and facilities along the way, your campervan will be your cozy sanctuary amidst this awe-inspiring landscape.
In Scotland, as in the rest of the UK, remember to drive on the left-hand side of the road. The general speed limits are 30 mph (48 km/h) in built-up areas, 60 mph (96 km/h) on single carriageway roads, and 70 mph (112 km/h) on dual carriageways and motorways. Be vigilant and adapt to the changeable weather conditions, which can significantly impact driving, especially in more remote areas.
The Route des Grandes Alpes, France: Conquer the Alps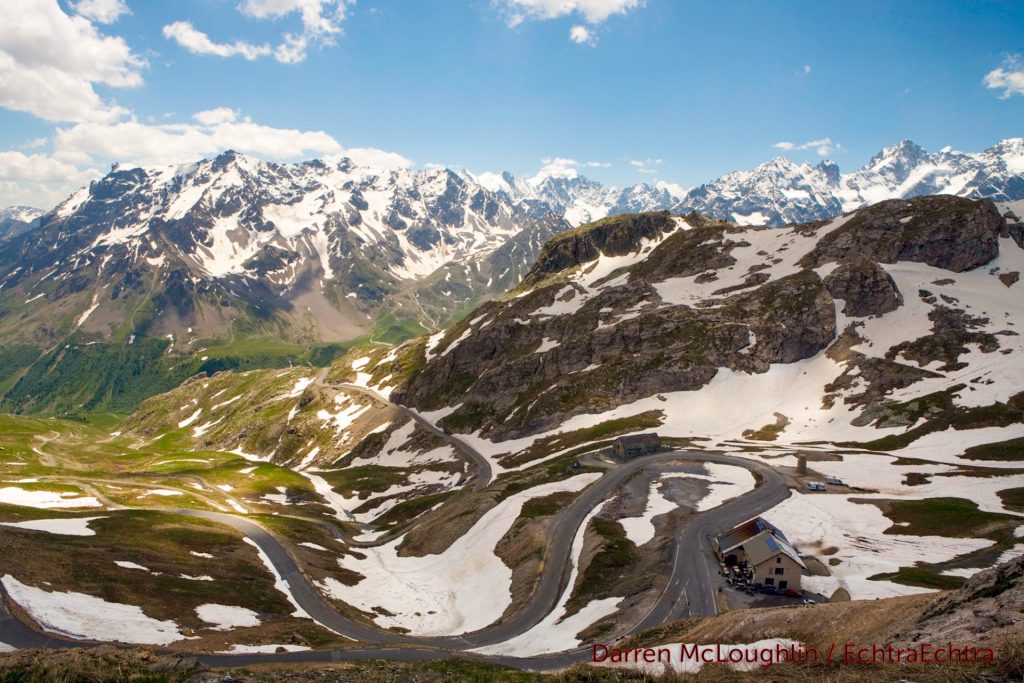 Prepare for a high-altitude adventure on France's iconic Route des Grandes Alpes, a 425-mile journey from Lake Geneva to the mesmerizing Mediterranean Sea. This alpine route will take you through 17 mountain passes, offering boundless opportunities for outdoor activities such as hiking, biking, and winter sports. Each morning, wake up to awe-inspiring mountain vistas right outside your campervan door. Don't miss the chance to witness the grandeur of Mont Blanc, conquer the legendary Col du Galibier, and immerse yourself in the glamour of Nice, a city that seamlessly combines beachside allure with cultural sophistication.
In France remember to drive on the right-hand side. The speed limits are 50 km/h in urban areas, 80 km/h on other roads, and 110 km/h on dual carriageways and motorways, with an increased limit of 130km/h in good weather conditions. It's worth noting that drivers in France are required to carry a breathalyser in their vehicles, so make sure to keep one in your trusty campervan.
Embark on the Ultimate Motoring Adventure!
Europe's diverse and breathtaking landscapes await your exploration.
With a campervan as your faithful companion, you have the freedom to embark on thrilling journeys that will leave you spellbound. Whether you choose to traverse Iceland's mystical Ring Road, wander through Germany's romantic countryside, uncover the raw beauty of Ireland's western coast, conquer Italy's stunning Amalfi Coast, embrace the majesty of Scotland's Highlands, or scale the heights of France's alpine wonderland, each road trip promises unforgettable moments and unparalleled adventure.
Remember to familiarise yourself with the local rules of the road, respect the environment, and prioritise safety throughout your journey.
Buckle up, start your engine, and let the road be your guide as you embark on the motoring adventure of a lifetime.
Happy travels!